About us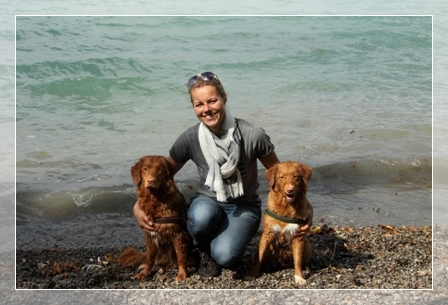 My name is Linda de Jong and I live together with Derk van Arkel in Beusichem, a small village in the middle of the Netherlands.
Together with my parents I have a dairyfarm.

In 2005 I fall in love with the Toller, and in 2007 Caya came in my live. Caya learns me a lot. We did different dogsports, but hunting we loved the most. We did some test, with a great result in Sweden. A 1st prize Tollerhuntingtest. But Caya was our best practical hunting dog. She retrieved everyting with drive and pleasure. It was so nice to work with her.

The first Red Glory litter was born in 2010, Caya en Pierce are parents of 11 puppies. Jillz stayed with me. Jillz is a very nice toller, sweet in temperament and a queen in the show ring. She is beautiful and she knows it... A lot of titles and she win a lot at shows... Always great to have her in the ring. Agility she does very well and she loved it.

Alba Nuadh Elina de Stevie came in our life in 2012. She is a lovely girl, full of energy and always funny and sometimes crazy. Always a lot of fun with Jeevi.

Ziva is from Caya her last litter. Ziva is a wonderful working girl with, a lot of drive and pleasure. Sadly she died to early because of cancer. She was great in hunting, and hunting tests. And she is doing wonderful at shows. In a very short time she wins a lot of titles.

Abby stayed with us. She is from Jillz her 2nd litter. She is full of energy and a very happy girl. Always wagging her tail. We train Abby for huntingtests and she is excellent in her work. We work now for the higher level, and hope we managed the highest level in the future. She is a natural talent, and a pleasure to work with.

Ginger is our youngest girl, she is from our Jeevi and Hank litter. I wait many years for this litter, and I'm very happy how the puppies grown up. Ginger is full of energy and works with a lot of speed and pleasure. An absolutely great working girl, We will see what the future will bring....

I'm a member of the

Nova Scotia Duck Tolling Retriever Club Nederland , the German Retriever Club and the Swedisch Tollerclub.